Shanghai is the most chosen destination for language students, a great place not only for learning Chinese, but also for exciting city life. It will maximize your experience by offering more possibilities to enjoy beauty, history and lifestyle or career and business opportunities. To learn and study Chinese in China, probably there is no better choice than Shanghai. It's a modern and lively metropolis with a vast range of sights and entertainment to delight its visitors. The mild climate makes it possible to visit and enjoy Shanghai at almost any time of the year.
Here are a few heads up on what you can do in Shanghai while learning Chinese with MandarinRocks in 2017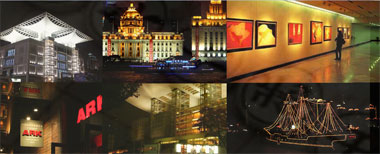 2017 Shanghai Public Holidays, Festivals and Celebrations
New Year's Holiday held on January 1st is a national holiday and celebrated throughout the city, with lion and dragon dances at the Longhua Temple
Chinese New Year (Spring Festival) - falls according to the traditional Chinese calendar (entire week starting on Feburary 18 in 2017). Shanghai positively explodes with vibrant red during the festivel with a plethora of lantern shows, dragon dances, outdoor bazaars and spectacular incessant firework displays.
Lantern Festival – on the 15th day of the first lunar month, marks the end of China's New Year celebrations. In Shanghai, delicate lanterns of all shapes illuminate the Yu Yuan Garden and locals feast on sticky stuffed rice balls.
Shanghai International Fashion Culture Festival – held from March 9th to 11th, prestigious designers and models have been assembling together to offer a visual feast of the gorgeous fashion culture and the varied future trends.
Longhua Temple Fair – takes place in the third lunar month, when the peach blossoms are in full bloom and, as the belief goes, a dragon visits to grant people's wishes. Stalls surround the temple selling Chinese food and crafts.
China International Boat Show – held in April. Thousands of visitors fill the Shanghai World Expo Centre to admire high-tech boats and yachts at the China International Boat Show. Side events range from charity regattas and gala dinners to test drives on the Huangpu River.
Nanhui Peach Blossom Festival - held in April, Shanghainese herald spring with the blooming of peach blossoms during the Nanhui Peach Blossom Festival. An idyllic sight to behold - visitors stroll under a blanket of pink and red blossoms that cover thousands of acres of orchards.
Shanghai International Tea Culture Festival - held over one week in May, Thousands of tea lovers, experts and producers visit INTEX Shanghai for the Shanghai International Tea Culture Festival, also known as China Tea Expo. Visitors can taste a good few varieties, attend impressive tea ceremonies and visit famous tea spots.
Shanghai International Music Festival - mid-May, lasting around one week and featuring a range of music-related events and well-attended concerts.
Shanghai Film Festival – held in June, this competitive feature film festival kicks off and ends with celebrities strutting down the red carpet. For those who aren't quite famous enough to attend the opening and closing ceremonies, the film screenings are held in venues across Shanghai.
Dragon Boat Festival - is held on the fifth day of the fifth lunar month and commemorates the national hero Qu Yuan, who drowned himself in the 3rd century BC to protest against the corrupt emperor. The main celebrations of Dragon Boat Festival include eating Zongzi and holding dragon boat racing.
China Joy – held in July to August, China Joy is similar to the Tokyo Game Show (TGS). This carnival will provide a great platform for promoting the development of Chinese electronic industry.
Shanghai International Music Fireworks Festival – Sep to Oct. Crowds gather in Century Park to watch rainbow-coloured fireworks dance in time to musical melodies at Shanghai's International Music Fireworks Festival. Pyrotechnic companies from across the world organise different displays. Past contributors have hailed from Germany and Japan.
Shanghai Tourism Festival – September, a huge urban tourist celebration with the theme of 'Walking into Happiness and Joy', featuring a parade along either East Nanjing Road or Central Huaihai Road.
Mid Autumn Festival – traditionally celebrated on the fifteenth day of the eighth lunar month. Celebration of the Mid-Autumn festival has a history of over 3,000 years, dating back to the moon worship in ancient times. The festival is celebrated extensively across the country, and is one of the few reunion holidays for Chinese families. On that day, Chinese family members stay together, admiring the full moon and eating mooncakes.
National Day Holiday – the first week of October, a national holiday commemorating the founding of the People's Republic of China, the golden week for travelling and shopping.
Shanghai International Arts Festival– Oct to Nov, month-long celebrations featuring a range of exhibitions, dancing, acrobatics, concerts and operatic performances.
2017 Shanghai Sports Events
F1 Chinese Grand Prix 2017 –April. The Shanghai International Circuit hosts the annual Formula One Chinese Grand Prix. The circuit measures an impressive 5.451km and brave participants have to speed their way through 56 laps. At a cost of $240 million, the Shanghai International Circuit was the most expensive Formula One racetrack to build. Opened in 2004, the Shanghai track is one of the world's most modern, set on the western outskirts of the city's pulsating metropolis.
Asian X-Games: Shanghai –For four days in April, the world's best alternative athletes fill Shanghai's KIC Jiangwan Sports Centre and compete for prize money in several categories. The Asian X-Games covers everything from impressive bike stunts to extreme skating manoeuvres that leave spectators gasping.
IAAF Golden Grand Prix (Diamond League) 2017 –May, one day competition among world's best track and field athletes.
Shanghai Masters Snookers Tournament 2017–September. The Shanghai Indoor Stadium hosts masterful displays of snooker during the Roewe Shanghai Masters. With top world players like Ronnie O'Sullivan, Stephen Hendry and World Champion Neil Robertson competing, there's bound to be some tightly fought frames.
ATP World Tour Masters 1000 Shanghai 2017-Oct. Aside from the Grand Slam, the ATP Masters Series is the highest-ranking tennis competition in the world. Shanghai's Qi Zhong Tennis Centre once hosted the season-ending finals, but now hosts the penultimate round of the year. The ATP Masters 1000 tournaments attract the cream of the sport's elite as they vie for the coveted title of world number one.
HSBC Golf World Championship 2017-November, winner of four of the world's leading tours vie for the "champion of champion". held at the splendid Sheshan Golf Course in the forested hills near Shanghai. Watch famous international golfers as they go for that perfect round.
Shanghai Marathon 2017 – November. Come rain or shine, 20,000 runners pound Shanghai's streets for the International Marathon. Anyone who can't face the full distance can enter the Half Marathon or Health Race (4.5km). Failing that, join the cheering spectators and exercise your vocal chords.
The Ride of Your Life
Here are a few heads up on what you can do in Shanghai while learning Chinese with us in 2017. While this was a metaphor of devastating insight into the up-and-down nature of human fortunes that nobody had ever considered before, Keating's Axiom will this year double as a fine piece of advice for the thrill-seekers of Shanghai because at this moment, as we live and breathe, a 1,200-meter-long, 33-meter-high wooden rollercoaster has just been constructed at the Happy Valley theme park in Songjiang District. Screeeam!
The big dipper is just one of 10 major amusement rides in the 86-hectare park, which is the largest in the eastern China region. The park also contains a 'space shuttle' that sends riders 60 meters into the sky in two seconds flat, plus "modern leisure facilities" and a 4,500-seat theater.
Also developed in the Sheshan National Travel Resort is the 210-hectare Chenshan National Botanical Park, which features more than 25,000 species of plants, opened to the public since 2010.
Think it couldn't possibly get any better? Back up. Not to be outdone in the carnival stakes, Mickey and his mob are muscling in on the action with a Disneyland theme park open in Pudong at the end of 2017!.

MandarinRocks also organizes various activities such as cultural workshops, shows and performances, excursions for groups on a regular basis to make student's stay fulfilling and memorable.

Well, do as little or as much as you want in Shanghai - it doesn't really matter as just being here is an experience in itself.